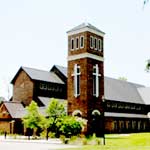 A position in proximity to the Arabian Sea renders a cool climate to the state which makes it favourable to stay in any part of the year. Cool nights, warm days and moderately humid climate give Goa an enviable position among the other states of the country.

Goa has a rich culture and heritage which is unmatched to any other state.Similar to the liveliness of the climate and the zest and the youth of the people, the festivals too are examples of sprinkle of liveliness on the people. Each and every festival, be it Diwali, Christmas, Ganesh Chaturthi, Shigmo, Easter, etc. The Carnival is the most loved and one of the chief attractions for the tourists. The Goan dishes too exhibit a lot of variety.People indulge in the enticing flavour of sea-food, fishes etc. but vegetarian dishes too are prepared with a different tinge.

Panaji, Margao, Mapusa, Ponda and Vasco da Gama are some of the cities which have shown development in the commercial terms in the recent years.

The churches too are a major attraction to the tourists for their architectural beauty and religious significance. Some of the few names which bear influence on the people are: Se Cathedral, Chapel of St. Catherine, Church of Reis Magos, Church of Holy Spirit and Church of Our Lady of Immaculate Conception.